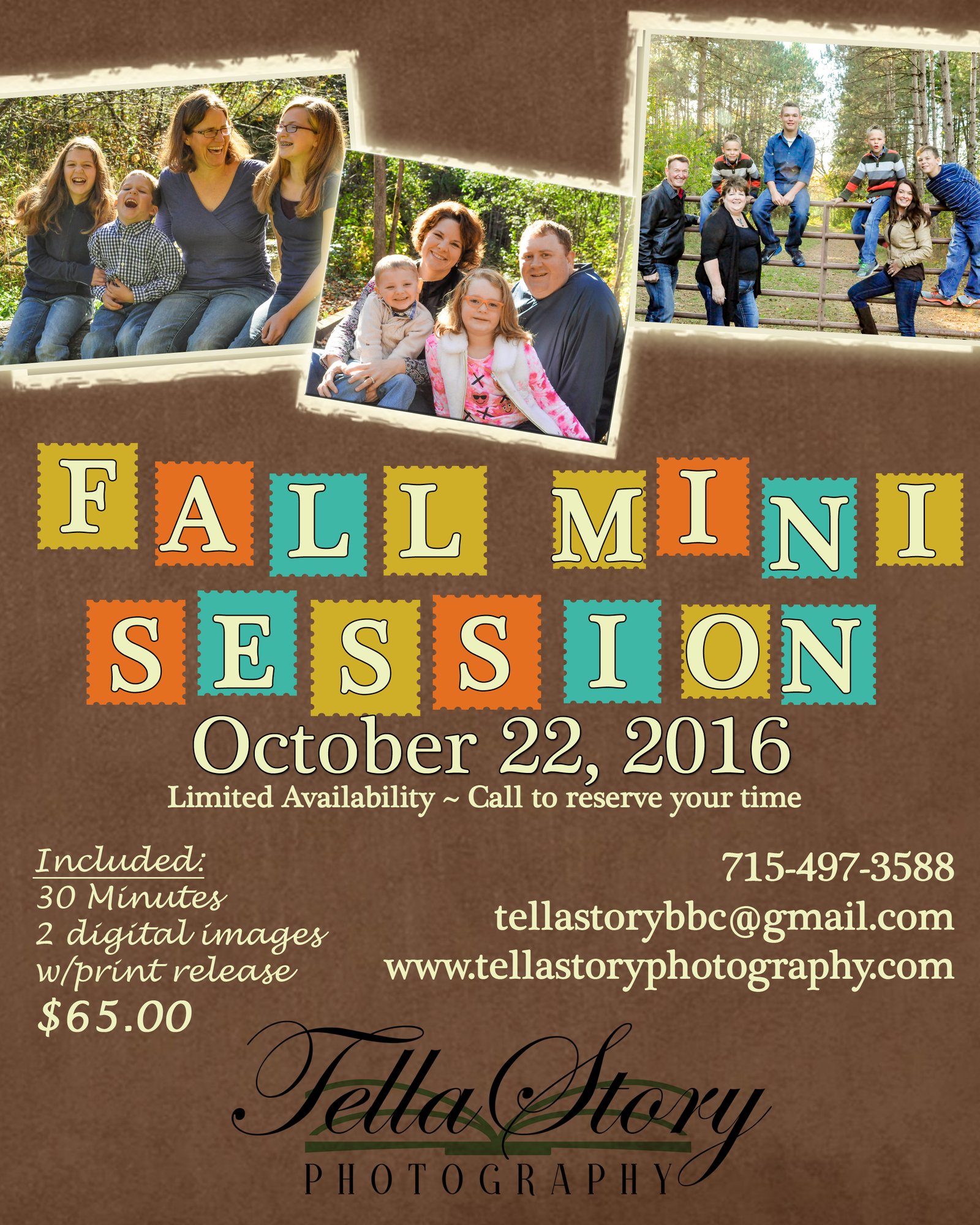 Reserve Your Mini Session Time Here
Professional and Creative Photography, Family Sessions, Fall Mini Sessions
TellaStory Photography is hosting our 2nd Annual Fall Mini Session Date.
We are only offering ONE day – due to a very hectic schedule.  Space for these mini's is limited.
If you are interested please contact us ASAP to reserve your time.
Mini sessions are currently offered only once a year.  It is a great way to update your photo collection, add a few last minute photo opportunities of the family as we prepare for Christmas Card season.
BONUS:  We Get outside and enjoy our beautiful fall surroundings!
Bring your kids, bring your dog or your best friend; anything goes.
But don't be late.  With limited time together we want to make the most out of our session.
What's Included?
30 minute session
2 digital images
$65.00
Details:
**Call or email to reserve your mini session time.
**I will contact you with more details roughly one week before.
You will be updated on location details and other things to help make your mini session a success!
**October 22 is our current date.  IF – it rains the back-up date is October 29.
Please mark your calendars if you are reserving a time.
**Location will be somewhere in or near Osceola WI ~ I'll admit, I'm still shopping around for the ideal location
-this will be dependent on the fall colors available at the time.  Don't fret – it will be amazing!
How does a Mini Session day work?
1. Arrive on-time (preferably 10 minutes early).  Bring props, or just bring yourselves. Either way- we will have fun.  Remember it's only 30 minutes (quick & painless)
2. Roughly 2 weeks after our date, I will post 15-20 images on-line in a private gallery for you to view.
3. Once you have your access code to your gallery, you may select your favorite images.
4. Included in your session fee~ you get to choose 2 images for digital downloads with a printing release.
This can all be done on-line or in person.
5. Can't choose only 2 images?   Schedule a complimentary ordering session
I am more than happy to help you create beautiful prints from this session.
I am truly excited to offer this amazing opportunity.  Looking forward to hearing from you soon!
Happy Fall Y'all
~B
Reserve Your Mini Session Time Here