The Engagement Session
This is the beginning of your story.   It doesn't start at the wedding.  The engagement session is the prequel to the big wedding day.  It's a time to capture moments that illustrate who you are individually and who you are together as a couple.  We have pulled together a few tips & tricks to navigating the engagement session.
When creating a story with visuals, it is important to set the scene.  Much like when reading a book, you need the beginning of the story to set the stage.  The engagement session is a great way to understand your photographers style & personality.  Plus it's a great opportunity to get comfortable with a camera being directed at you.
Your engagement session IS important.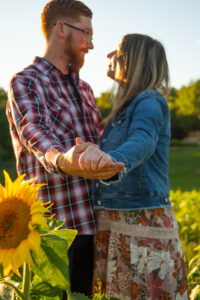 From the photographers perspective (my opinion): 
the engagement session is a stepping stone to understanding each client on a personal level.  We get to know what poses are the most flattering & will often re-create this on the wedding day.   Think of the engagement session as part of the wedding rehearsal.
What should you wear for engagement photo's?
Dress like the best version of yourself.  Wear an outfit that you would wear on a date night.  If you prefer barefoot, choose jeans that are flattering.
Consider 2 outfits.  Casual and Dressy / playful.  *Bring one more outfit than you plan to wear, this will give a backup in case of a wardrobe malfunction.
Important tips:
*Dress to fit in your location
*Add contrast to your photos by wearing a "pop" of color.
*Bring an extra pair of walking shoes to put on between locations- save your feet from discomfort.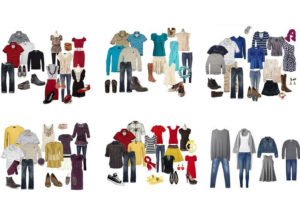 What to wear:
No, you do not have to match. Coordinating does not mean identical.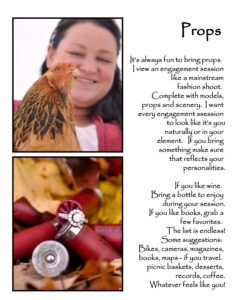 When should we schedule our session?
Are you using these images for Save-the-Dates?  (7-9 months prior to the wedding date)    Are you using this session to "test-drive" a photographer?  schedule ASAP.
maybe you found 2 photographers you like, but can't decide.  We recommend hiring them both for the Engagement Session.  This will give you the chance to see how they work & if they are a right fit for you.
BONUS TIPs:
* schedule early – for peak season dates.
* You will end up with some stellar photo's to remind you of this amazing time in your lives.
The Dirty Truth about the Engagement Session?
You're about to take that leap of faith, into a new life with with your fiance.
You may be in the beginning stages of planning or in the thick of it all.  The last thing on your ever growing to-do list, is an engagement session. Perhaps you have no desires for photo's because you are camera shy, or these photo's are not important.   It's my job to shed some light on the engagement session.  What's the worst that could happen?  You end up with photo's that you LOVE & cherish.  Someday you'll talk about the good ole' days & the obvious outcome:  "they lived happily ever after"
If you've made it this far, thanks for reading.  Leave us a comment below.  
~Cheers – B